Again in summer 2019, TU Graz is hosting the "Girls Coding Week". During this event, girls between 11 to 14 years old will learn the basics of programming by using our apps Pocket Code or Luna&Cat. Eleven coding units with unplugged activities and challenges will prepare them in realizing their own ideas. Tinkering activities with robotics, Arduino boards, drones, and programmable embroidery machines will be part of the course as well. As a final project, everyone will create their interactive, creative and innovation app. For this course, no programming experiences are needed.
July, 28th – August, 2nd 2019, each day from 9 am to 4 pm
@ Inffeldgasse, TU Graz
Registration: catrob.at/girlsweek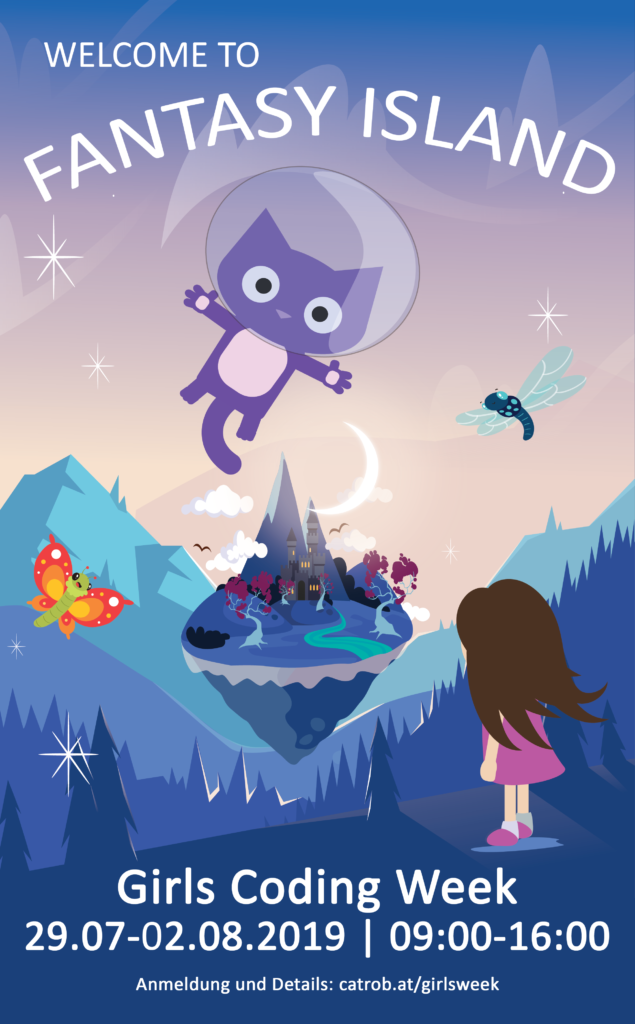 Starting in April 2019 members of the Graz IT community will host a CoderDojo club in Graz – once a month (every first Friday of the month): https://www.coderdojograz.com/
CoderDojo is a worldwide concept that offers free coding clubs for children and teenagers. Our first event will be conducted on April, 5th from 16.00 Uhr to 18.00 at Coworking Space Spacelend (Neubaugasse 24, 8020 Graz).
Registration: https://coderdojograz.com/events
 "Design your own app" a "coding for all"- course open for students of all degree programs at KF-Uni Graz: https://catrob/appdesign
First Workshops "Code'n'Stitch"
It is important to know what our target group expect and wish in order to create sufficient emproidery patters. Thus, first they are able to draw and search for patterns online. Second, they program them with turtlestitch.
In addition, I performed a gender and diversity workshop for the whole project team (including, F&T, Apflbutzn, and Bits4Kids).
Mini Track call for papers on Gender Sensitive GBL
Video RemoteMentor project
November 2019
Our Remote Mentor project, funded by NetIdee is coming to an end -> You want to know what this project is about? Check out this new video [in german]!